Enjoy this look back at how CooperRiis came to be, and highlights of our last 20 years of service.
Envisioning CooperRiis, Inspired by Family
Lisbeth Riis Cooper and her husband, Don Cooper, were frustrated with the available options when trying to help a loved one deal with mental health challenges. After spending ten years not receiving the care, they are inspired to create something better - a place where people can heal.
They decide to found the not-for-profit CooperRiis (cooper-reese) in the beautiful landscape of Western North Carolina.
CooperRiis is more than a residential treatment facility - it is where people find purposeful work as part of a Healing Community.
"The mental health system we encountered was so challenging for our family that we decided there had to be a better way. We envisioned a healing community, a place where individuals aren't defined by their psychiatric diagnosis but by their talents, personality, and potential."
- Lisbeth Riis Cooper, Co-Founder
Getting Started
Lisbeth and Don share their vision for a better mental health system at local community groups and are warmly received in the community.
Construction Begins
The IRS grants CooperRiis Healing Community non-profit status, and construction begins on The Farm.
Opening Day
Virgil and Lis Stucker agree to be our founding executive director team and hire our initial 25 talented and caring staff.
CooperRiis Healing Community opens with 25 staff and four residents at The Farm, a sprawling property in Mill Spring, NC, which includes an art barn and woodshop, a 4-acre lake, forest trails, and acres of gardens and greenhouses.
We empower residents to take ownership of their recovery journey and encourage their families to be active participants. With the launch of Family Education Weekends, CooperRiis expands its emphasis to family involvement.
Purposeful Work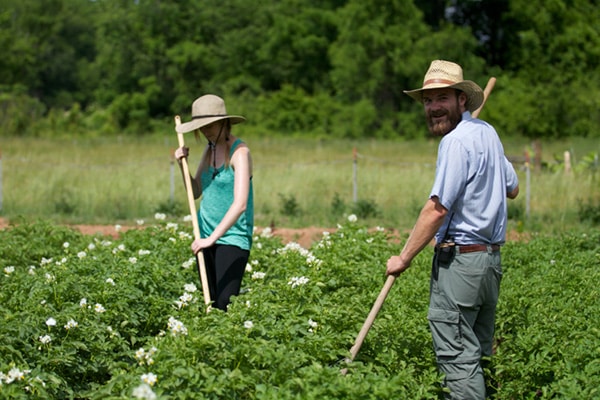 Our residents choose work that inspires them and matches their interests, including caring for the animals, preparing meals, or growing flowers and vegetables in our garden or greenhouse. 
The Asheville Community Program, our transitional living program, launches to assist residents in their healing journey. After leaving The Farm, residents live in a structured home environment with support from CooperRiis staff.
In the Press
CooperRiis and its founders receive accolades in the press: Lisbeth was named "Shining Star" by 
Women's Day Magazine.
Front Page article in Tryon Daily Bulletin:
 Turning adversity to healing.
Don and Lisbeth are featured on CBS Sunday Morning on their
"Creative Retirement"
segment, May 2009.
5th Anniversary
World renowned neurologist Oliver Sacks and his assistant Kate Edgar come for a three-day visit.
"One of the things which most impressed me on my final night…was a bonfire there. There was a group of about 20 people making music. If one had just come on them from a distance, it wouldn't have occurred to one that these were 'mentally ill' people…They were just happy people making music. Something like this is so unimaginable in a hospital setting… you really need a place like CooperRiis to do it."

Oliver Sacks, MD, 1933-2015
Neurologist and Professor of Neurology at NYU Medical School
Asheville Campus Opens
Known as "85Z" for its address, 85 Zilicoa St. in Asheville, this program mirrors our Farm in Mill Spring, including meaningful and purposeful work with a different approach utilizing volunteer opportunities through partnerships with local nonprofits.
In September 2020, it becomes known as CooperRiis at Asheville. 
All-Community Day
Celebration of Don's 70th Birthday with an all-Community Day including an evening fire dance.
Eli Lily Award
CooperRiis wins the Eli Lily 2010 Reintegration Award in the Category of Social Support.
World premiere of "Miracles on Highway 108", a CooperRiis documentary on Mental Health Recovery. 
Lisbeth wins the Transformation Award, one of 25 nominees at the annual YWCA "Tribute to Women of Influence Awards". The event was held at Diane Wortham Theater, with over 400 attendees. 
CooperRiis hosts American Horticulture Therapy Association Members; longtime staff member Markus Wullimann is association president. 
Outcomes
Research data from a 10 year longitudinal study details improvement in residents' lives and the effectiveness of the Seven Domains Enhanced Recovery Model.
Early Report on the Effectiveness of a Recovery Model Oriented Therapeutic Community for Individuals with Complex and Persistent Recovery Challenges Sharon Young, Lisa Schactman, Matt Snyder. View the Report (PDF)
10th Anniversary
We celebrated our 10th anniversary with great food, lots of cupcakes, camaraderie, and games with residents, staff, families, and alums. 
Virgil Stucker retires as Executive Director after 10 years of service.
Dr. Michael Groat becomes President and CEO of CooperRiis.
CARF Accreditation

CooperRiis residential mental health treatment programs are CARF accredited. The CARF accreditation signals our commitment to continually improving services, encouraging feedback, and serving the community.
15th Anniversary
CooperRiis celebrates its 15th anniversary and honors long serving staff.
NC Commission for Mental Health & Disabilities
Governor Cooper appoints Lisbeth to the North Carolina Commission for Mental Health and Disabilities.
As one of 32 Commission members, Lisbeth joins other professionals, consumers, and family members from across the state, working to promote excellence in prevention, treatment, and rehabilitation programs for people with mental health challenges.
New Leadership
Eric brings more than 30 years of working in education and mental health and brings vast experience helping individuals affected by the challenges of mental illness and disabilities move toward healthy and fulfilling lives. Eric's positive outlook affirmatively impacts our residents, their families, and our staff.
The Asheville program is relaunched as CooperRiis at Asheville. To meet the needs of a higher acuity level client, we move towards a clinically intensive model with more individual therapy, psychiatry sessions, and group therapy and accept out-of-network insurance benefits.
Working Together to Stay Safe
The CooperRiis staff commits to safety for residents and staff during the COVID-19 pandemic; supplying masks, administering regular testing, and adjusting admissions requirements. Eric writes weekly updates to keep families updated on the latest at CooperRiis. 
CooperRiis Healing Community's Farm offers enhanced programming and services for people with mental health challenges and autism/neurodiversity (High Functioning Autism and/or for people formerly diagnosed with Asperger's Syndrome).
20th Anniversary
CooperRiis is honored to be a part of the healing journey of so many individuals and families. Over twenty years, more than 1,900 residents have come to CooperRiis to recover from their mental health challenges, and our staff has grown to 175.
CooperRiis is a nationally recognized nonprofit mental health treatment center offering an integrated system of care to meet people where they are on their recovery journey.
As we celebrate 20 years of being a Healing Community in 2023, we will regularly feature highlights, memories, stories of recovery, and hope. Please follow and subscribe to keep up with the latest news.
We are excited to continue serving our residents with new programs and services to launch in 2023.
We look forward to the days ahead and our continued commitment to providing a place where people can heal.
We are proud that CooperRiis continues to be a place where people are free to be themselves, a place to learn and grow, and a place to recover. And most of all, it is a place where hope is restored for residents and their families.
Don Cooper and Lisbeth Riis Cooper
Founders